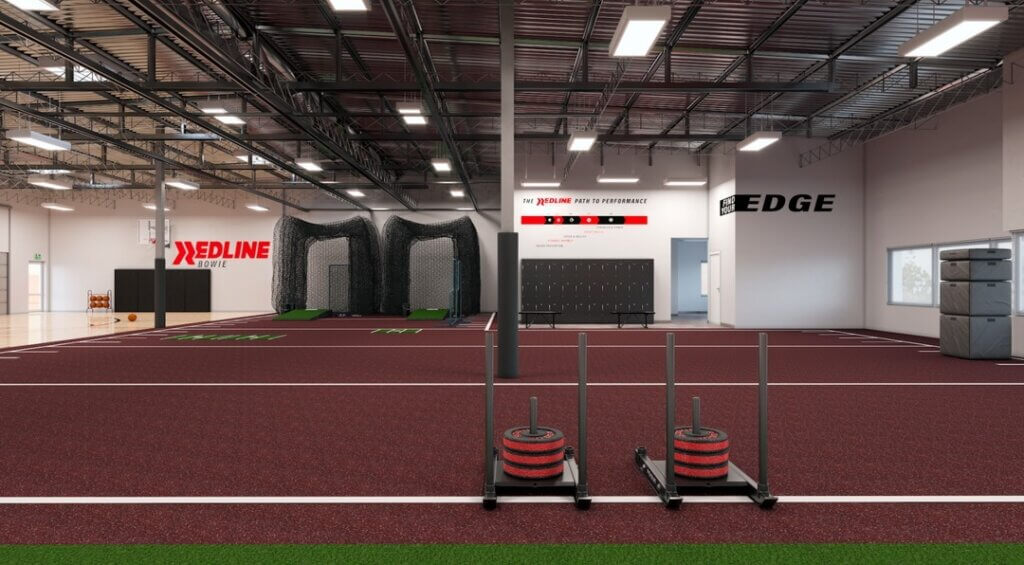 Redline Athletics, the specialized youth fitness franchise focusing on sports performance training for youth ages 8-18, continues to grow, expanding in cities across the nation. We spoke with the Williams Family of Bowie, MD, about their newly opened location and how they hope their business will positively impact their community.
What was your background before becoming a Redline Franchisee?
"As a family," says wife and mother, Tamara, "we have an array of experience." Both Tamara and her husband Patrick have been in senior leadership positions in their respective industries for over 20 years – Tamara in consulting and Patrick in IT. Their eldest son, Patrick, is a Financial Portfolio Manager, and their youngest, Justin, is a high school senior already showing aptitude for IT and building his coding skills.
Why did you choose to get involved in Redline Athletics?
"Sports have played a huge role for our family, and we are big advocates for how the principles learned from sports can positively influence athletes," explains Tamara. When looking to build a stable business in their community, "we knew we wanted to focus on something surrounding sports," she says, and sports performance was where they saw a need.
What specifically attracted you to Redline Athletics?
For the Williams, Redline's proven training concept is what stood out to them. Tamara shares that "ensuring youth are limiting injuries throughout their career, shows that Redline's programming cares for the whole athlete." Tamara goes on that Redline's use of technology to evaluate performance is a big differentiator as well. "When you pair that technology with the design layout of the facility, you have an unparalleled experience for athletes to train for any sport."
What makes your center unique?
"Our location," says Tamara." "We sit slightly outside of DC and Baltimore on two major highways. Prince George's County is known to be a basketball powerhouse, but many other sports have begun to spread and pick up popularity." It's their prime location within the county that's allowing them to meet a growing need and attract a variety of sports to their facility.
Tell us a little bit about your staff.
"Our staff is full of energy and ideas," Tamara tells us, and their background is impressive. The Bowie, MD staff is comprised of collegiate athletes, holding NCSA Certifications in Strength and Conditioning and Sports Performance Coaching, Bachelors in Health Education and Promotion, Kinesiology, and Master's in Exercise Science.  And this is what sets Redline apart in the fitness industry – the experience and knowledge of their staff.
How do you hope your Redline location will impact your community?
The Williams family is looking forward to working with young, talented athletes that will go on to create positive change in their community. Says Tamara, "Our location was built by a family and we want to be an example that families can build things together. We want families to know that when you interact with the Redline family, you're interacting with the Williams family."
What are some of your goals in your first year open?
The Williams have set their sites on gaining 175 members with an 80% utilization rate. "We also want to partner with at least ten local sports teams to train their athletes in some capacity," says Tamara.
Explain how the Redline Support Team has set you up for success.
"The support that Redline has given us has been unparalleled to any other franchise we researched," says Tamara confidently. "The on-going support shows that they care about our success as a franchisee, as well as the overall national brand developing across the country." As for the Williams, they're excited to be part of building a brand that is sure to be around for years to come.
Whether you're an investor, a former athlete, or a family with a passion for sports, Redline Athletics is a great franchise opportunity in the robust fitness industry. With a specialized focus on youth sports performance training and a command of innovative technology, you'll have a business that stands out in your community with a service that is unmatched anywhere. Learn more about owning your own Redline Athletics on their website: https://redlineathletics.com/corporate/franchising